1 ) Thanksgiving Weekend in NYC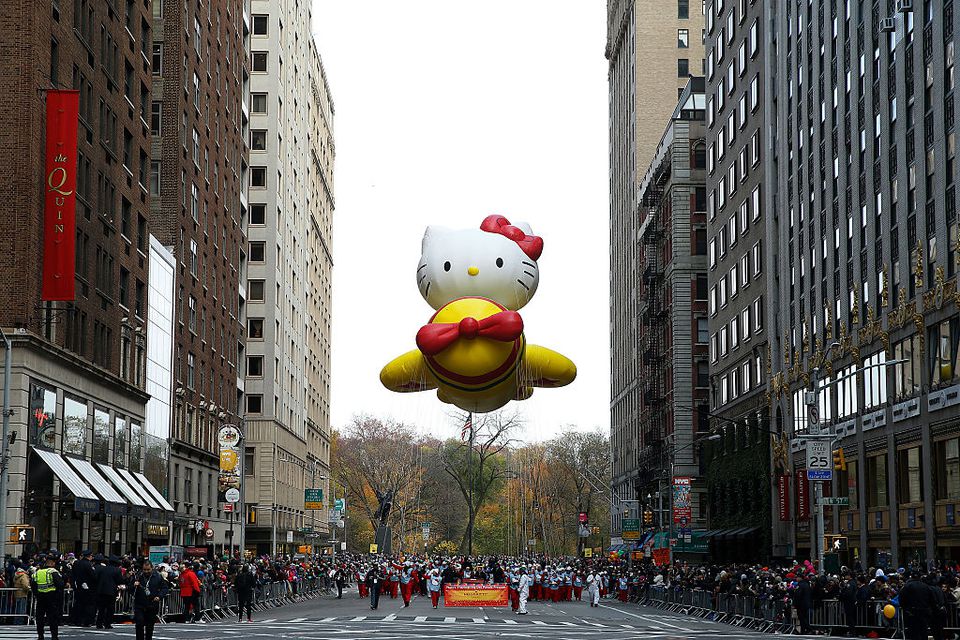 New York City isn't one to skimp on holiday revelry, so whether you're in town for the big parade or sticking close to home for the turkey-centric feast this year, rest assured that there's plenty on hand to make sure that your Thanksgiving holiday in the city is a memorable one. With the holiday in 2017 falling on Thursday, November 23, these 7 fun things to do for your Thanksgiving weekend in NYC propose a cornucopia of options, so that you can shake off that tryptophan coma and feast beyond your meal on Manhattan's thriving cultural scene and festive holiday spirit.
2) See the Macy's Thanksgiving Day Parade in NYC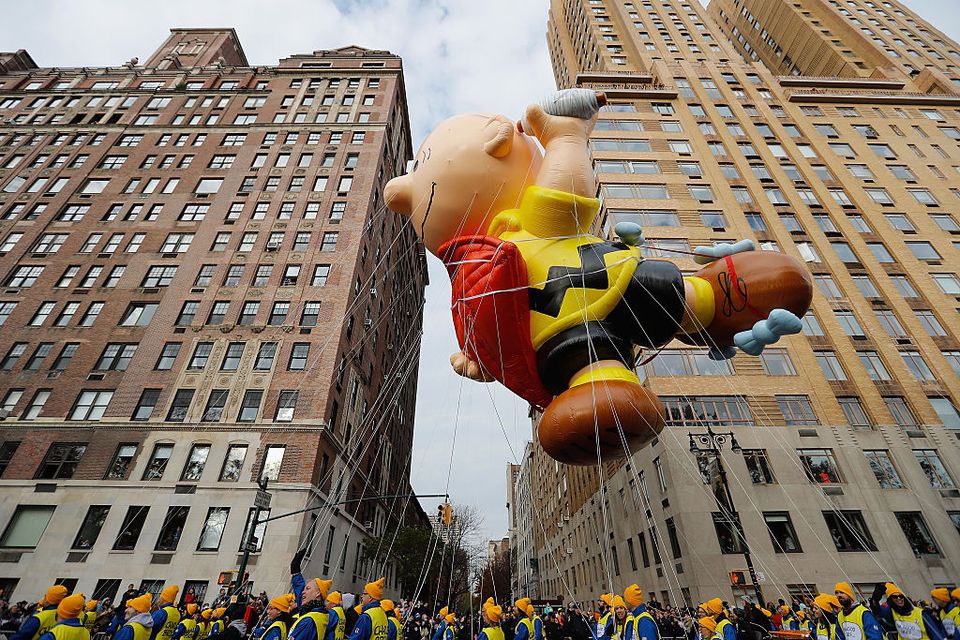 Thanksgiving is synonymous with the annual Macy's Thanksgiving Day Parade, which is celebrating its 91st year in 2017. It's one thing to watch the parade at home on TV, but the parade takes on entirely new dimensions in person, with its vibrant floats, festive marching bands and dance troupes, celebrity guests, old St. Nick, and the main attraction: those massive helium balloons, floating high overhead. The parade kicks off at 9 a.m. from Central Park West and West 77th Street, following a 2.5-mile path that traces Central Park around to 6th Avenue, before making its way down to 34th Street, site of Macy's flagship department store. Curbside viewing is first-come, first-served, so be prepared to show up hours early if you want a good front-row spot. (For more, read TripSavvy's full guide to the Macy's Thanksgiving Day Parade in NYC.)
3) Watch the Thanksgiving Day Parade Balloons Inflate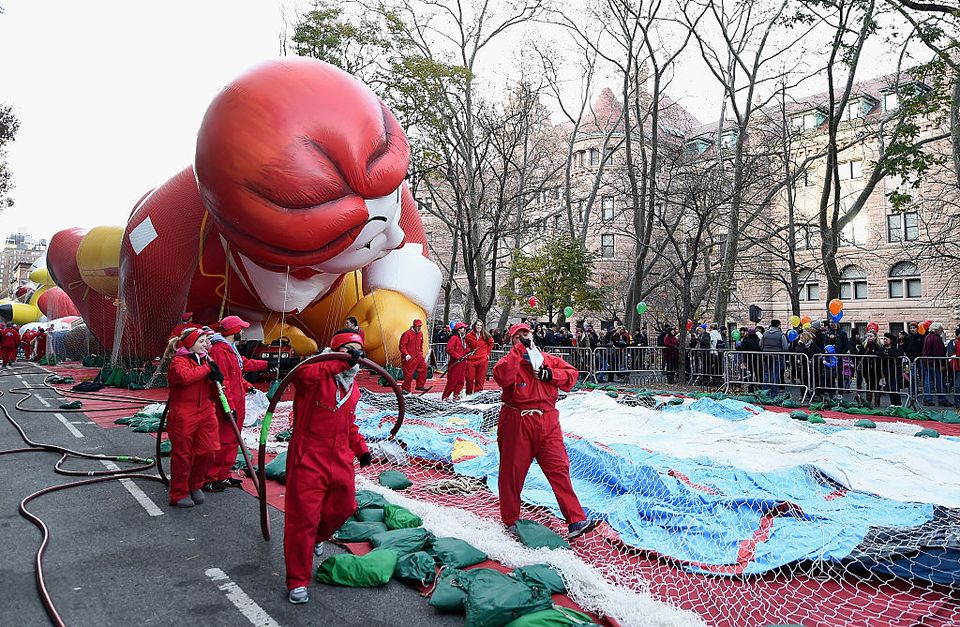 Can't get enough of those Thanksgiving Day Parade balloons? Get your fix of those helium-filled behemoths on Thanksgiving Eve, when the parade balloon inflation is held: It's as much as a beloved annual Thanksgiving tradition in NYC as the parade itself. Unfolding in the late afternoon/early evening on November 22, 2017 (the day before the parade), visitors can get a sneak peek of the balloons taking shape on the Upper West Side (near the parade's starting point, around the grounds of the American Museum of Natural History). Among the balloons to look out for in 2017 include returning favorites like Hello Kitty, SpongeBob SquarePants, and the Pillsbury Doughboy. Check out our tips and tricks for making the most of the Thanksgiving Day Parade balloons inflation in NYC.
4) Tuck Into a Thanksgiving Feast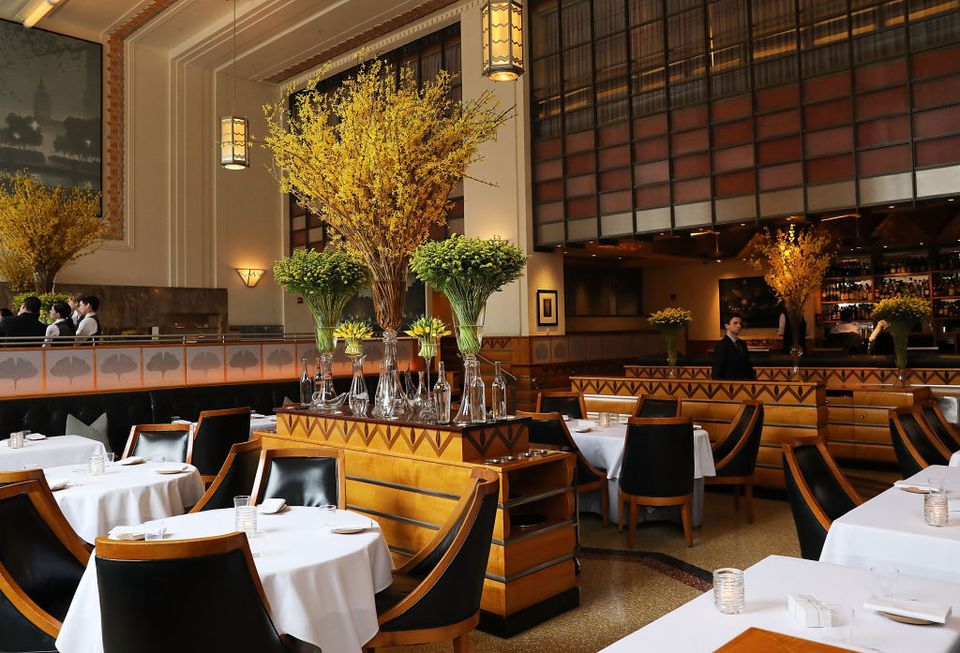 In this city of 24/7 opening hours and delivery services, you can find just about anything you could possibly need. A Thanksgiving feast, complete with all the trimmings, is no exception. Sure, you could slave over your stove in your pocket-sized NYC kitchen for several days, or have a go at whipping up a Thanksgiving feast in your hotel microwave, but, we say, leave the cooking to the pros. Check out our round-up of some of the best Manhattan restaurants serving up Thanksgiving dinners (the list will be updated for this year as holiday menus become available). Or, if you prefer to enjoy the big meal while hosting at home, don't overlook the possibility of ordering in a catered Thanksgiving meal: These 5 Manhattan grocery stores offer standout Thanksgiving to-go menus (including delivery).
5) Shop Black Friday Deals Until You Drop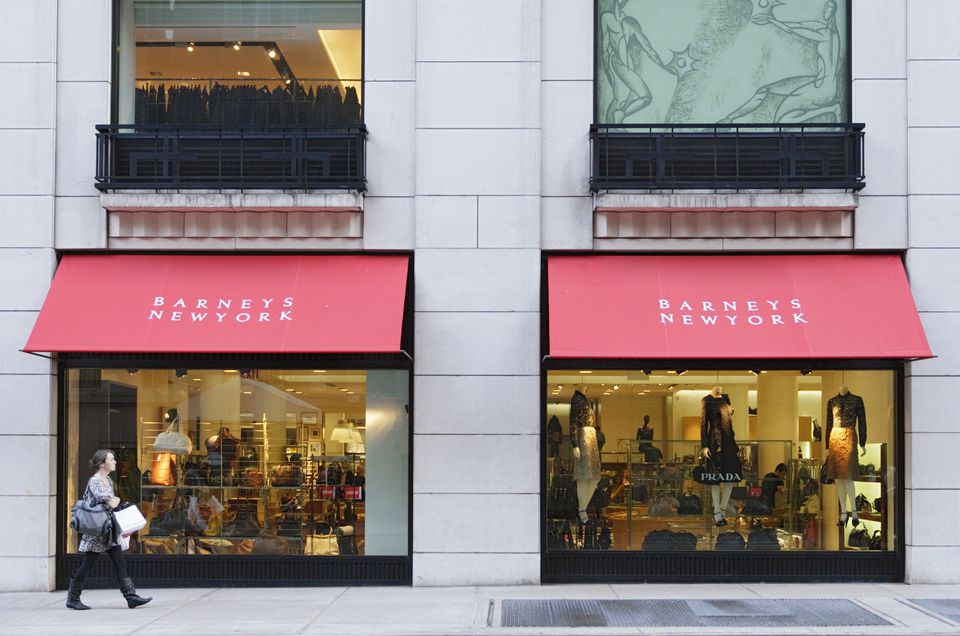 Shoppers will find no shortage on retail therapy options in NYC, and the "Black Friday" post-Thanksgiving sales here can be downright jaw-dropping. Stores across the city compete to lure shoppers in with bargain-basement deals. If you're up for braving the masses (it's the single busiest shopping day of the year), you can score some major deals on Friday, November 24, 2017 (though many deals run through the remainder of the weekend, too.) Check out our mini-guide to some of the Thanksgiving sales and Black Friday deals in Manhattan.
6) Give Back and Volunteer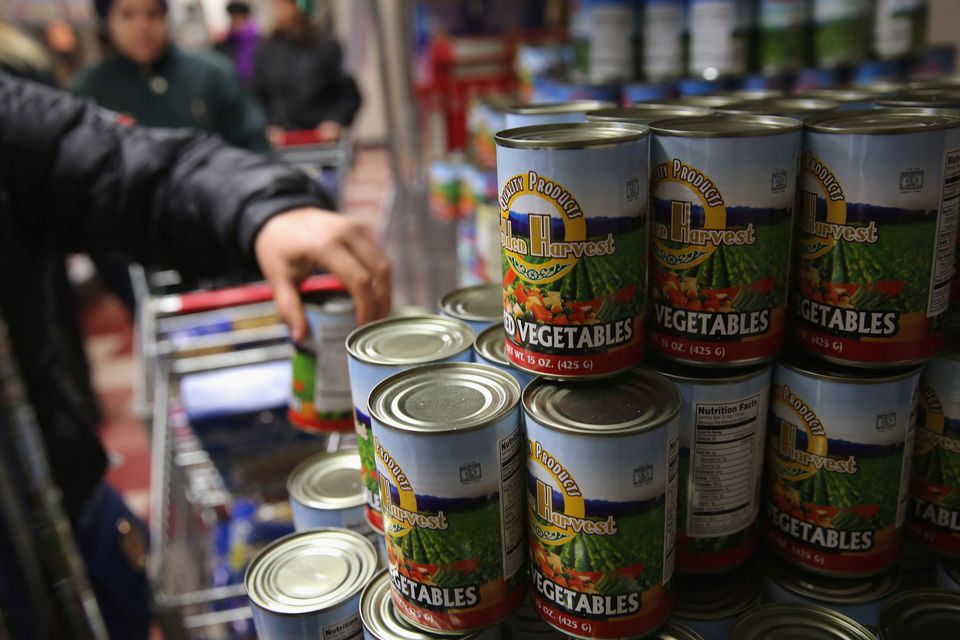 Don't miss out on the true spirit of the season – to give thanks and to give back. There are tons of rewarding volunteer opportunities in NYC throughout the year, with a special need for helping hands in soup kitchens, homeless shelters, and for families in need around the city for the Thanksgiving holiday. For some ideas on current volunteer needs for Thanksgiving 2017, check out the Thanksgiving volunteering opportunity referrals maintained by New York Cares.
7) Set Out for Some Sightseeing on Thanksgiving Day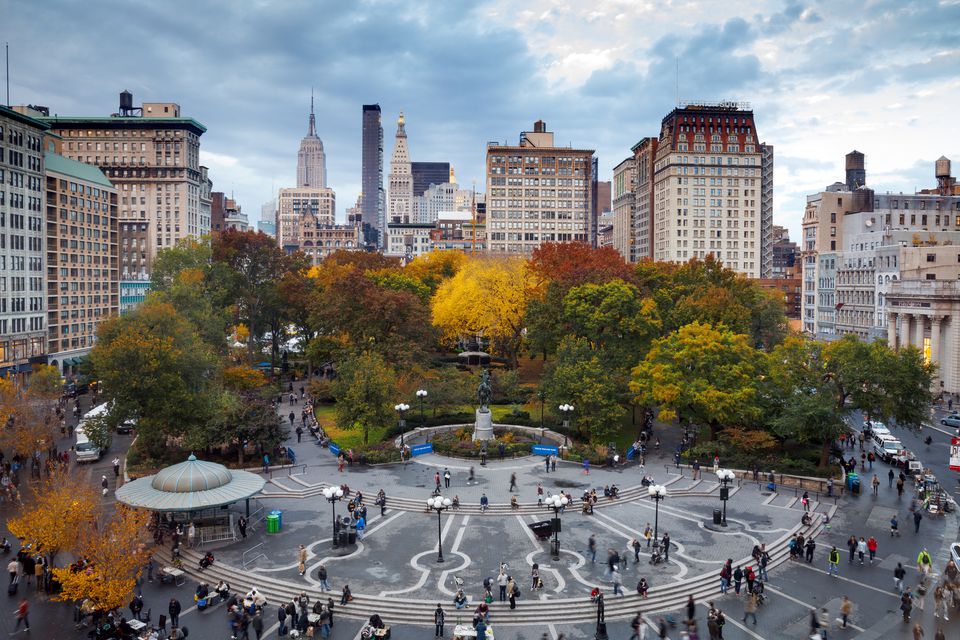 If stuffing yourself with turkey and yakking the day away doesn't fully satiate your day-off itch, there are a few NYC attractions that open their doors even on Thanksgiving Day. Some 2017 contenders include the city's three major observatories: Top of the Rock, the Empire State Building, and One World Observatory; and bucket-list sites like the Statue of Liberty and Ellis Island. With kids in tow, Madame Tussauds Wax Museum or the Central Park Zoo might be just the ticket. If museums are more your speed, you can pop into a handful of institutions with Thanksgiving hours, like the 9/11 Memorial Museum or the National Museum of the American Indian. And of course, don't overlook the open-air public-space attractions that are free and open to the public all year long, like Central Park, the High Line, and Times Square.
8) Get Into the Christmas Spirit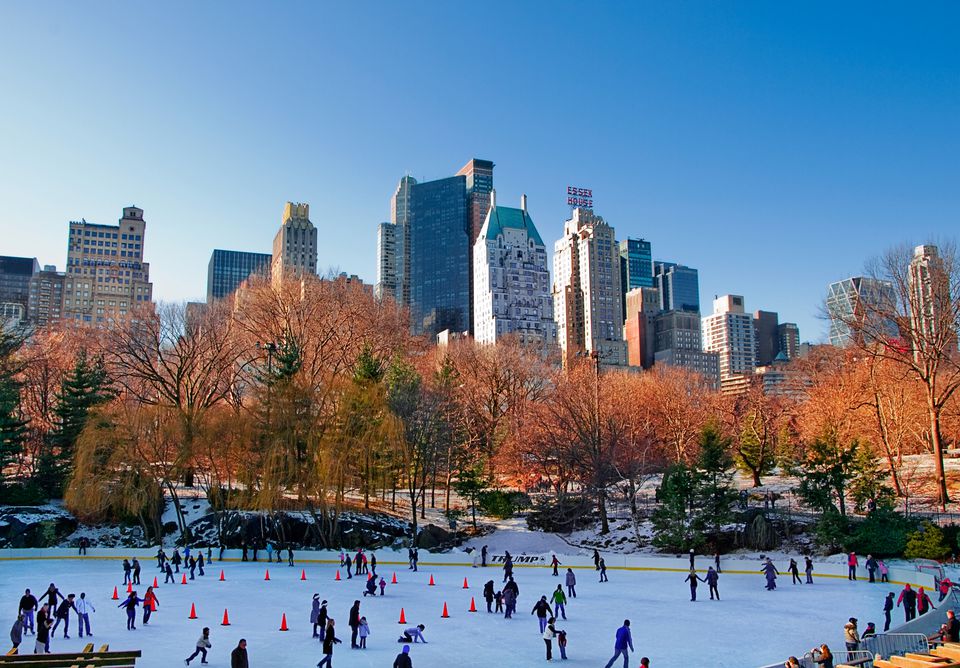 We hate to holiday-hop so darned quickly, but it's a simple fact that just as soon as Thanksgiving passes, Manhattan kicks its Christmas spirit into high gear stat. Check out our ultimate guide to Christmas in New York City to read up on holiday light displays across the city, festive holiday shows (including those high-kicking Rockettes at Radio City), and more Christmas-themed fun that will be mostly up and running by the Thanksgiving weekend. Or, get a glimpse of the winter wonderland just around the bend by getting in a whirl on one of the city's ice-skating rinks, most of which are well underway by Thanksgiving weekend.
Source:www.tripsavvy.com
Paint Power keeps you updated on events taking place in NYC during special dates, and upcoming holidays, such as Thanksgiving, Christmas and New Year.