Wherever you are in the world, we're all Irish on St. Patrick's Day, and the mid-March holiday is more than an excuse to pub crawl. This is especially true in NYC, where it's a chance to participate in a tradition as old as the US itself. This year marks the 258th anniversary of the New York City's St. Patrick's Day Parade. The first was 1762, 14 years before the founding fathers signed the Declaration of Independence.
After more than two and a half centuries, organizers have this operation down to a science. And beyond the green theme and good cheer revelers have come to expect, there is one little novelty in 2019: the parade is on March 16th. It's typically held on St. Patrick's Day's actual date (March 17th), except when it falls on a Sunday and gets moved to Saturday, like this year. Here's everything you need to know to find the luck of the Irish.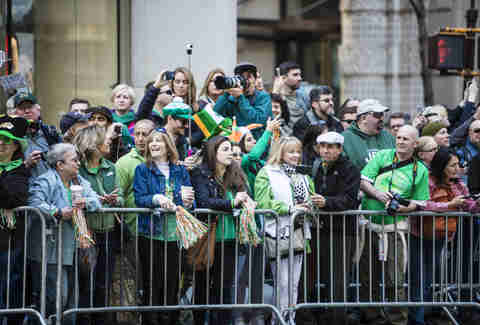 When and where
NYC's 2019 St Patrick's Day Parade is on Saturday, March 16. The parade will kick off at 11am at 44th Street and 5th Ave, continuing nearly two miles north all the way up to 79th Street, ending around 5pm.
Along the route, Cardinal Timothy Dolan, Archbishop of New York, will preside the mass at St. Patrick's Cathedral and then come out on the steps of the church to greet spectators.
How to get there
Hop on the subway to swerve the inevitable traffic caused by the parade and road closures. Take the D or F trains to 42nd Street Bryant Park, the 4, 6, or 7 to Grand Central, the E to Lexington Avenue/53rd Street, or the N to 5th Avenue and 59th Street.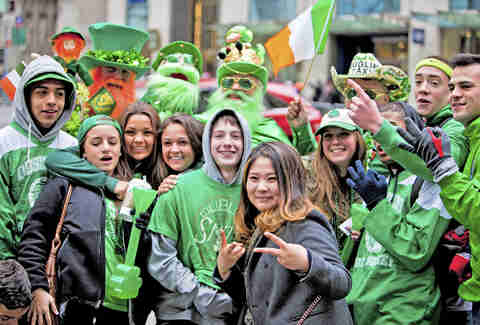 What to wear and how to prepare
The forecast for Saturday is partly sunny with a high of 51 and a low of 34 degrees. It sounds pleasant enough, but you should probably wear a little more than your sparkly shamrock antenna and sexy leprechaun costume. Visibility is good along the entire route, but the starting point draws large crowds compared to further up Fifth Avenue, so wear comfortable shoes and be prepared to hike a few blocks north if needed. You should always go before you go, but there are public bathrooms at Bryant Park near the start of the route.
For more information visit:  nycstpatricksparade.org