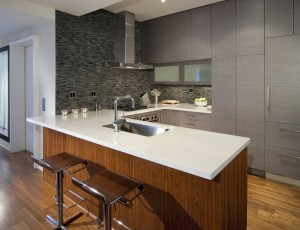 Granite is one of today's most popular types of countertop, but it may not work in every situation or appeal to every person. If granite just doesn't feel like the right fit for your home, finding attractive and high-value alternatives can seem difficult. Fortunately, there are plenty of other choices that offer beauty, durability, and a great return on your investment. The following six countertops are highly popular granite alternatives that can accommodate the budgets and preferences of most homeowners.
1. Marble
Marble countertops create an inviting and timeless look, whether you choose clean, classic white marble or one of the dozens of other colors available. The natural mineral deposits and impurities in this stone give rise to streaks, specks, and unusual patterns, which ensure that your countertop looks utterly unique. Some marble countertops may even be more affordable than their granite equivalents.
Compared to granite, marble is softer and more porous, so it can be more prone to scratching, etching, or staining. For some people, this means that marble is a high-maintenance choice. It's true that you will need to clean up spills quickly and treat the surface every two years with a special sealer. However, if you can make peace with the fact that the appearance of your countertop will change slightly over time, marble can be a stunning option.
2. Quartz
If you love the idea of marble countertops but want an option that is a little more uniform or low-maintenance, engineered quartz countertops may be the perfect choice. Options such as Caesarstone and Silestone are made primarily of quartz, which is mixed with small amounts of resin to create a strong, minimally porous surface. Quartz countertops are available in a wide range of distinctive colors, and they offer more uniform patterns and colors than all-natural countertops.
You may pay more for an engineered quartz countertop than you would for other alternatives. You also will need to take steps to protect your beautiful quartz countertop, as they are less heat-tolerant than granite countertops. However, aside from this, quartz counters are very easy to maintain, and they are a health-friendly option, since they won't release harmful byproducts or worsen allergies.
3. Wood
To many people, wood offers a beauty that other materials, whether natural or engineered, simply cannot rival. Traditional wood countertops can add immediate warmth to your kitchen or elegance to your bathrooms. Wood offers a surface that is warm to the touch, quiet to work on, and — with proper treatment — resistant to heat, bacteria, and citrus staining. With regular care, the appearance of a wood countertop will only improve in time.
One often-overlooked benefit of choosing wood is that it can be more easily cut and installed than stone surfaces, which can lead to cost savings. Wood may not be the right choice if you want an extremely low-maintenance material; wood counters may need oiling as many as two or three times a year to prevent drying. However, if you are willing to put in a little extra work, wood can add value and timeless beauty to your home.
4. Tile
Tile countertops are an appealing option for more creatively inclined homeowners, as they allow for full customization of color, pattern, and texture. Ceramic or porcelain tile also creates a polished, classic look that will stand the test of time with proper care and maintenance. You may also be attracted to tile if you want a highly cost-effective option.
Like many of the most attractive countertop materials, tile requires some special maintenance. Scrubbing the grout between the tiles to remove food particles and prevent staining is essential, and this task can be time-consuming. Additionally, grout usually needs resealing every year. Aggressive cleaning can harm the tile finish, while excessive force can cause chips or cracks. However, with caution and proper care, tile can offer a unique and beautiful look for years.
5. Stainless Steel
Stainless steel counters create a sleek, clean, and highly modern feeling. As the material's use in commercial kitchens suggests, stainless steel is highly resistant to staining and heat. If you're a cooking enthusiast and want a counter that you can put through its paces, this is the optimal choice. Stainless steel also works well if you want to add a more industrial look to your home.
Stainless steel is easy to clean, although keeping the surface meticulously clear of fingerprints and smudges can be a challenge. Stainless steel countertops also have incredibly long life expectancies. The material is still susceptible to scrapes or dents, and it can be pricy compared to other options, but owners know this is an investment that pays off over time.
6. Concrete
Concrete is another highly functional material that can create surprisingly attractive countertops. It combines the modern look of stainless steel with the natural attractiveness of stone surfaces. Concrete is also highly versatile; you can choose the color, thickness, and shape, and skilled concrete workers can add various extra details, such as edging.
Concrete is highly durable and very easy to install, which makes it an appealing solution for many homeowners. The only significant drawback is that concrete is vulnerable to various stains, so it must be cleaned and sealed regularly. Still, this is one of the more cost-effective and low-maintenance countertop choices available.
Add Beauty and Value
When choosing your non-granite countertop to spend money on & install, it is important to consider what you want in the long term. Are you hoping to add value to a home that you may be selling in the near future, or are you trying to choose a timeless look that you will love for years? It is also smart to make concessions about your lifestyle. For instance, if you have young children, or if cleaning isn't your strong suit, you may get a better value by focusing on functionality and durability rather than appearance or trendiness.
With the many choices available today, finding the right countertop can be challenging, but with some research and thought, it can be done. Considering these six options can be a great starting point, since they are all difficult to go wrong with if you want a granite alternative that still offers the same level of versatility, functionality, and aesthetic appeal.
Source: www.homeadvisor.com